When you think of dog agility, what comes to mind? You may think of complex agility courses and professional handlers. The dogs may be young and energetic, or seasoned competitors. What if we told you that agility training offers amazing benefits for every kind of owner and pup? Start dog agility today and have fun trying something different with your dog!
Starting dog agility benefits everyone; from young puppies that are just building a connection with you to older dogs that need the right kind of exercise and stimulation. Whether you're a new dog owner or an experienced trainer, you can get plenty of value from dog agility training.
If you've thought about starting dog agility, then you're in the right place. In this guide, we'll break down the top 3 benefits of dog agility training, and we'll explain how Agility Foundation by OneMind Dogs helps you start in your own backyard with easy-to-follow training videos for dogs. No need to look for "agility training near me", you can start from home!
Why should I try dog agility?
Everyone has a unique reason to try dog agility training. For most of us, it comes down to our relationships with our dogs and where we'd like to strengthen them. Relationships are key in the OneMind Dogs method – our dog agility training videos are made to enhance that magical bond for a lifetime.
Beyond that, agility training adds a fulfilling activity to your dog's routine. It ensures that they get the daily stimulation they need for healthy development, playtime, and learning (and as a bonus — it's a fun way to get some extra exercise for you)! Those are the 3 keys to a good online dog training course: connection, stimulation, and learning together.
Here's what makes each one so beneficial for you and your puppy.
Get to know your dog and build a connection
Every connection goes two ways, so building one should offer value for both owner and dog.
As an owner, you want to understand your dog better and help them live a happy and fulfilling life. The right training can show you more about your dog's perspective — the way they see the world, what they respond to, and how they solve problems. The better you understand their worldview, the easier it is to respond to them intuitively.
They may not speak with words, but dogs are excellent communicators. Learning through their perspective helps you tune into their signals. The stronger your ability to listen, the more engaged your dog will be when you give cues of your own.
This is one area where agility training can help puppies thrive early on. It's the perfect activity to teach focus and calmness while getting to know their personality. The exercises are simple enough for them to practice as you learn about the stimuli they respond to, from rewards they like to noises that distract them.
Have fun and get active
Agility training helps your dog learn core skills for the fun and addictive hobby and also, for everyday life. But it should always be fun! Physical exercise keeps their bodies healthy, but the best training is also mentally stimulating too.
Are you looking for some agility training videos for dogs? With over 70 bite-sized lessons, the Agility Foundation course helps you keep every training session fresh and exciting.
You get to train using different motivators, like toys and treats. When your dog completes an exercise, you can experiment with your praise and pick up what they find most rewarding. Some dogs prefer praise through touch, some respond to the pitch of your voice.
Be excited, serious, or animated in your praise – whatever makes your dog's tail wag after a good job!
Tire your dog out
Doing agility training at the right time can make it that much more fulfilling too. When it comes to training for dogs, you want to find the most optimal moment for each session, especially if you have a set routine.
Take mealtimes, for example. You may notice that your dog gets jumpy around the time you normally feed them every day. They're alert, excited, and expecting something they value. The same goes for scheduled walks and playtime.
This is when your dog is most attentive. A short training session is a great way to channel that excitement when they know a reward comes after. Similarly, there are times of day when your dog may not be up for training at all.
These moments are usually around their nap time, when they're already tired, or after a meal. Short, stimulating lessons are easier to fit into your routine, which will help your dog train with peak energy and focus.
Does your dog have a hard time settling down in the evening? Do they spend the whole day running around without getting tired? The key to managing their energy might not be more activity, it may just be timing.
Agility training is the perfect way to get active when your dog will benefit from it most and to satisfy your dog's energy levels.
How do I get started with agility training?
Are you worried about not having the right agility equipment or space? We've got you covered! You don't need any special equipment to start our online dog agility course. All of the Agility training videos and lessons are available online and require minimal equipment, so all you need is a little space to have some fun with your pup.
OneMind Dogs agility training is for all dogs at any level, which means making each lesson accessible for owners too. We keep training for dogs simple in two ways: online lessons and DIY capability.
Online vs in-person training
In-person training at an agility training club or local dog trainer adds a fun social element to agility training, but what if there aren't any local clubs nearby? The best training routines are based on activities you can do anywhere, anytime. Our Agility training videos and lessons for dogs are easy to start at home and give you the same online support you'd get in person.
You get access to expert coaches who can answer your questions, offer video feedback, and guidance on how to run courses and give you fun homework exercises. Each lesson includes a quick video with text explanations, replays, common mistakes and tips to help you structure your sessions like a pro.
DIY agility equipment
You don't need special agility equipment to make agility training fun. With a little creativity, you can easily make DIY agility obstacles with items you already have around the house.
Want to practice course jumps in the garden? All you need is a broom and two props at the right height. Why not turn those pool noodles into uprights for some basic agility drills? If all you have is a plank of wood you can prop up, you've got everything you need to make an incline and learn how to train contacts in dog agility!
Agility training shouldn't be stressful. More importantly, it should be something that adds to the bonding time between you and your dog. Making DIY equipment can be a great way to get in touch with your creative side. The things you make will provide your dog with fun puzzles to practice their problem-solving skills.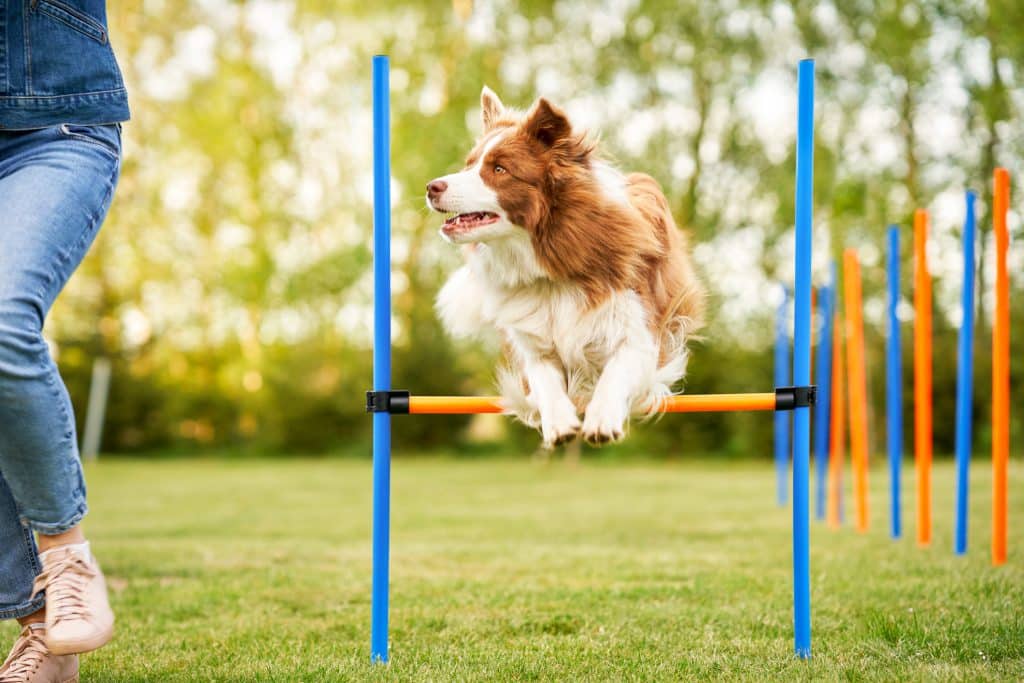 Is agility training suitable for all dogs?
We made sure our Agility Foundation online course had something to offer all dogs. From professional competition to playtime in the park, dogs at every level deserve quality training they can enjoy and benefit from.
Our agility training videos and lessons are designed to help you bond with your dog while they get the mental stimulation they need every day. You get to learn more about your dog even as you teach them new skills. And when you need a little help, our coaches are here to help you too.
Agility training that's suitable for all dogs also means your pup can continue learning at different stages of their growth. What could be better than that?
Here's an example video from our foundation course:
Start now!
Getting started with agility training has never been easier. Our online Foundation for Agility course offers step-by-step guided instruction to help you train at home with minimal equipment. Start today and build that magical connection with your companion.
Looking for more information on how to get started in dog agility?
Watch our inspiring, free, 30-minute webinar: 3 Reasons To Try Dog Agility! Access it now by filling in the form below: