If you've found your way to this article, then chances are, you have completed our Foundation for Agility program, congratulations! You and your dog have acquired solid knowledge and skills to serve as the basis for your future agility training. You now have a more in-depth understanding of how your dog thinks and learns and you have set all the pillars to make agility easy and fun! If you haven't completed the foundation program yet, go and do that first and then come back to this article later 😉
You've also learned the fundamental abilities required for autonomous obstacle performance, distance handling, and the OneMind Dogs handling techniques. As you grow in your agility training and strive for more complex skills, these foundation skills will become increasingly important.
Where should you go after completing agility foundations?
Now that you have insight into your dog's perspective and how they learn, you might be wondering, "What next?". Janita Leinonen, our method creator, shares that at this point, she would start training her dogs on the same course that she offers her competing dogs.
However, she suggests breaking up the courses to practice one skill in each session. For example, If jump #2 on the course were an S-line, the initial teaching steps of the German Turn or the Forced Front Cross would suffice for one session. It is best to start with the bar low or on the ground, depending on the dog's age and physical development, and gradually raise it as it gets older and physically developed enough to jump.
If the dog is still relatively young, she recommends skipping full-sized contacts and weaves and working on foundation skills, like target training on the ground or 2-on-2-off basics, in the session. Agility training should be a rewarding experience for both you and your pup. Remember to keep sessions short and fun and keep rewards high. Once your dog gets something correct twice, change it up! If things went wrong twice in a row — make it easier for your dog to succeed.
Agility is a great way for active dogs to burn off excess energy and use their minds in a safe, supervised environment while building your connection together. All these benefits make agility training the perfect next step after completing our foundation program. And even better, you can complete most of our agility training in the backyard or a park. With just one jump, you can achieve a lot!
Agility training plan with OneMind Dogs online service
If you are stepping into the agility training journey with your first dog or don't have access to full training courses regularly, here's what we recommend.
Agility obstacle training
Iit's typically better to hold off on exposing your dog to weaves or full-size contacts until they are wholly matured (typically between 12 and 18 months, depending on their size). However, you can start training the basic skills for these obstacles already a bit earlier. That way, when your dog is old enough and you have access to full-sized equipment, you will be ready!
Begin by training your dog on the basic skills required for individual obstacles and building their confidence and independence gradually. A lot of things can be substituted if you don't have equipment at home. For example, a plank will do as a substitute for 2on2off training. Even better, paint the plank with a mix of paint and sand or line it with rubber, to make sure it has some grip for your dog. Many agility obstacles can also be made with cheap PVC.
Agility handling techniques
You can learn all of the basic handling techniques on a single jump to get started. Learning the techniques is the best way to discover more about your dog and what sort of handling works for them, it's also a lot of fun as an added bonus! Additionally, this is the perfect time to enroll in a guided course with us, where you can receive advice from knowledgeable instructors.
Our online platform will give you step-by-step guidance on how to teach these techniques to yourself and your dog, what to do if things go wrong and how to start building the techniques into sequences.
Agility backyard sequences
Once you've learned the basic techniques of agility training and your dog can confidently perform jumps and tunnels, it's important to start putting them into practice in small sequences. This helps to improve your coordination, connection with your dog and ability to handle on the move. At OneMind Dogs, we have hundreds of small-space courses available for you to practice your new skills.
Mix things up every now and again so you and your dog don't get too comfortable with any particular exercise. This helps keep them engaged while also teaching them how to adjust quickly when presented with something new. With patience, consistency, and positive reinforcement, you'll soon have a dog that's full of confidence while having loads of fun at the same time!
Support
Keep in mind that you don't have to struggle alone! Our coaching team is available to support you at every turn. Please do not hesitate to reach out to us with any questions or concerns you may have.
If you'd like some personalized feedback on your agility training, feel free to send us videos of your training sessions. We are happy to provide feedback and suggestions for improvement. Remember, we are here to support you every step of the way, so reaching out and asking for help is always an option.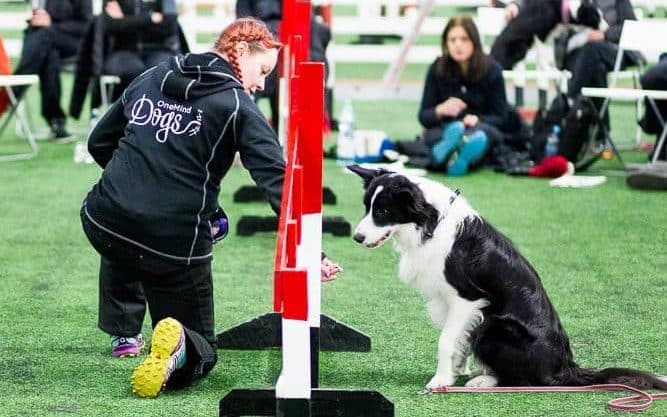 The benefits of OneMind Dogs Agility Premium
Our premium program offers a range of benefits that make it an excellent choice for those looking to take their agility training to the next level. In choosing our premium program, you and your dog:
1. Get trained by the best!
Our program includes access to expert instructors who provide personalized instruction tailored specifically for each team's unique needs and skill level. This means you can get more out of your sessions with one-on-one coaching that helps build confidence while perfecting technique.
2. Access to professional online videos, lessons and guided courses
Our premium program includes unlimited access to our guided courses and online lessons on foundations, obstacle training, handling techniques, mental training, sequencing, ring stress, distance handling and MUCH more! There are plenty of opportunities to challenge your dog in new ways while having loads of fun along the way.
3. Work at your own pace
All of our learning content is structured as work at your own pace, so you can fit training into your schedule no matter how busy life gets. This should make it easy to maintain consistency, which is crucial when progressing in any sport!
All these benefits make our premium program an excellent choice for any dog owner looking to give their dog an exceptional experience. It will help you to reach your maximum potential at every stage of your journey.
Get started with our 30-day free trial here, or download our eBook below to learn more!