Border Collie Stormy is OneMind Dogs Instructor Lynn Madden's teammate in agility. Together, they've gone through a journey of transforming Stormy from being stressed out in competitions into an agility state champion.
"Stormy is an amazing girl. We have a great relationship and have been through many ups and downs in her first four years of life. As a five-month-old puppy, Stormy first fractured her shoulder blade. At two years of age, she was diagnosed with OCD. It took six months to rehab back from her double shoulder surgery to full function.
The dog who can do it at home
Stormy was about two and a half years old when we were finally able to get back into training. We progressed quickly training at home and at the local agility club. We entered her first trial when she was three, and I was surprised when it did not go well. My beautifully trained dog became the "but she can do it at home" dog.
She turned into a stressed-out, shut down Border Collie that was showing clear signs of stress and anxiety. She would run ok in a trial situation and take a toy in with me, but in normal competition, she would shut down.
A crushing feeling and a decision
After this run in March 2019, I was crushed. I did not want to do agility with a dog that was so clearly not enjoying the game. As I drove home that night, I cried for both of us and decided there and then I would either work out a way to help her with the nerves and love the game, or we would not run at competitions again.
Working on the ring routine
The next week with the help of OneMind Dogs Coach Niki Drage we started to implement a new program. It became evident to me that Stormy is a dog that needs me to be very clear in her training and trialing. I had never really worked on a ring routine with her as my first agility dog generalized to the ring without reinforcers easily. Stormy, however, needed me to be clear about a ring routine.
The very first training session after our disaster weekend, I implemented a program where every training session would be just like a trial situation.
Stormy got a special slip lead that she only wears when we do agility, and I never carried food or toys on me again in training. We had a small food container that she gets her rewards from. I started slowly setting the box next to her and asking for one jump and then giving her the food. Next, I asked her to send between two jumps with the food in the middle, and once she could focus on doing this, we started doing our full trial routine.
Now we have a full ring routine which is as follows:
I treat her out of the container,
I leave it at the side of the training area
We walk to the start and do our start line routine including handing off the lead
We do our training sequence
We drive to her lead and put it on
We run to our treat container and have a party!!
Positive first results
During this initial training (about a month), we had no trials, so we had a good chance to get used to this new routine. At our next trial, I saw a lot of improvement. There were still some issues l at the start line with some stress, but overall I knew we were on the right track, so I build the container into our start line routine as well.
She's a state champion!
It was four months after that pivotal trial that we received our first-ever qualification card! Then much to my surprise, five months after almost giving up, Stormy and I won the NSW Novice Jumping State titles. I was blown away, and she continues to get better and better now, finishing the year on 12 Q cards and 2 titles.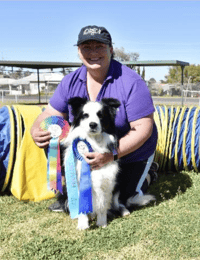 My best advice is perseverance. Keep trying different things until you find the key to unlock the potential of your team."