Agility is a fairly new sport in Ecuador, the first official competition was organized by Juan Carlos Montalvo and Cesar Vargas in 2016. Xavier Torres took part in this competition with his Pitbull, Attila, and his addiction to agility began!
Xavier started searching online for ways to perfect his handling and training techniques.
"Surfing the internet, I got to OneMind Dogs, and once I signed up, I became addicted! I especially love to follow Hu's Blog, which inspires me, and I have followed a similar story with my young Border Collie Wicks. I learned the handling techniques to add to my toolbox. I learned to train each obstacle in detail".
This year, Xavier, who is part of the Agility Commission in Ecuador, was tasked with organizing the "Splash Dogwash Agility Cup". The cup allows the 40 Ecuadorian dog and handler teams a chance to test their skills in a competition environment.
Xavier asked the OneMind Dogs team for a greeting for the competition, and OneMind Dogs CEO Noora Keskievari gladly obliged. Xavier reported that the competition was a huge success.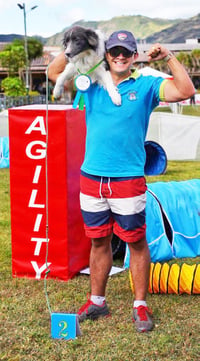 "The 40 agility teams training in Ecuador consists of youngsters, pre agility, grade 1, 2, and 3. I took part in the cup with my young Border Collie Mechas. I have given all my effort to train with him based on the fundamentals of OneMind Dogs, and especially on Hu's blog. We placed 2nd in the competition, but I feel like a total winner! I will continue training with the OneMind Dogs method because, for me, it has been the best thing that has happened to me in my life! I have fabulous communication with my dog. I am always grateful for this website that makes me so happy."
Xavier has since also competed internationally in Expopet 2019 in Colombia, where he and his young Border Collie Wicks won the Grade 1 overall championship and moved up to Grade 2!