As a new puppy owner, this might sound familiar: you were crazy excited about the arrival of your new family member, so you stocked up on a whole range of super cute puppy toys, and…
Your puppy decides its favourite toy is an empty water bottle, a sock, or a cardboard box.
Great.
The good news is that there are plenty of toys you can make from things around the house to scrape back those dollars spent at the pet store.
Before we roll up our sleeves and get down to the DIY, there's one important thing to cover: puppy toy safety.
Puppy toy safety
Puppies explore the world, their toys, and our hands with their mouths. That's why it's so important to make sure any toy they play with is safe for them to chew, munch and throw around.
Safety hazards you should watch out for when buying or making puppy toys:
Small parts that can easily break off (just like kids' toys, it's a choking hazard)
Sharp edges or corners
Materials that contain unsafe chemicals
Loops or holes that part of your pup's mouth or paws could get caught in
Stuffed animals with poly-fill (or similar) stuffing
And like anything else your puppy does, keep an eye on them while they play (or better yet, play with them and you'll be the most exciting person ever!) so you're able to respond to any accidents that might happen.
Now, to the fun part!
6 easy and safe DIY puppy toys
DIY water bottle toy
Many puppies and dogs love the crinkly cronchy sound of a water bottle between their shark little teeth (that was a typo, but it's still relevant, so I'll just leave it there). However, their teeth can break the bottle and cause damage to their mouth and gums, so it's not the safest toy to let them have.
The solution? An old sock, placed over the bottle like this:
For extra auditory stimulation, you can even pop some kibble inside too! And remember, only place edible items inside any puppy toys, because in the event they do break, it's safe for them to eat the contents — like a tiny tiny piñata.

DIY puppy popsicles for summer
This one's less of a toy and more of a delicious treat, however, a popsicle is a great way to both keep your puppy cool and tire them out from all that licking!
It's super simple too — just grab some popsicle molds, choose your pup's favourite flavour, pop a long chew in for the 'pupsicle stick' and freeze!
Here are a couple of popular DIY pupsicle flavours (puppy tested and approved!)
Banana smoothie: Mashed banana, peanut butter, plain greek yoghurt or kefir
Meaty treaties: Chopped chicken, hotdog or meat
Berry bliss: Berries, watermelon, water/bone broth
For the stick, remember to use an edible item, like a dehydrated tendon, chicken foot, bully stick or even a long vegetable like a bean,

DIY snuffle mat
If you're new to enrichment games for dogs, the word 'snuffle mat' might sound a little odd. It's basically a rubber mat with pieces of fabric or felt attached to cover part or all of the surface area.
It looks a little like this: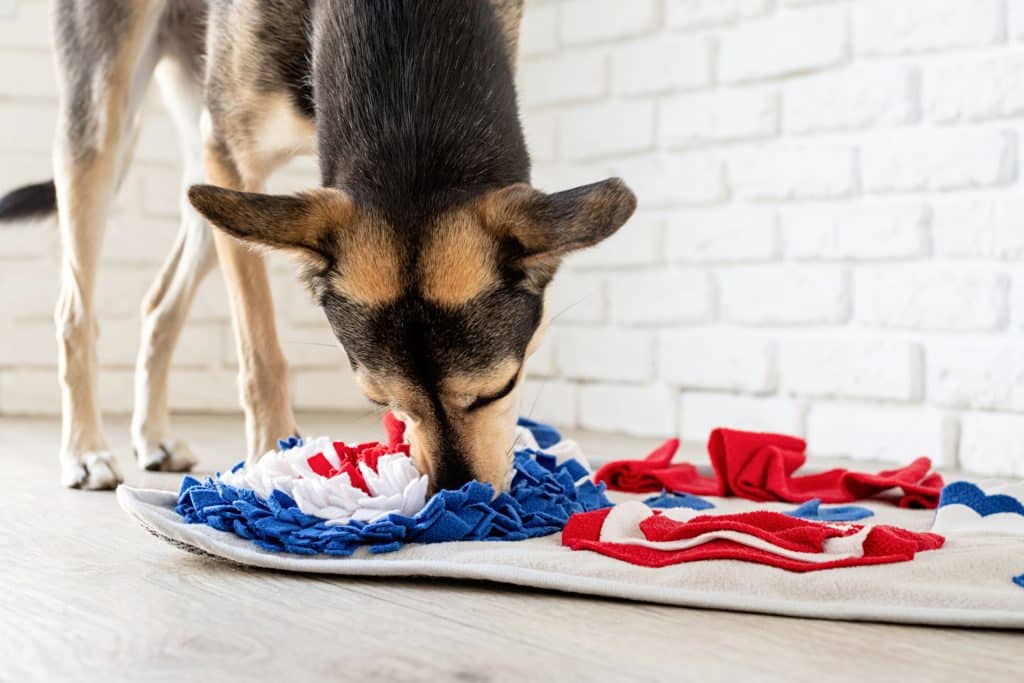 To create a snuffle mat of your doggy's dreams, simply find a plastic mat (say, a sink mat) and cut fleece fabric into strips. Then, attach the fleece strips by tying them through the holes of the mat.
And how to use it: hide treats or your dog's food underneath and between the fleece strips so your pup has to sniffle and snuffle around to forage out the food.
You can even step it up and create larger flaps and pockets that your puppy needs to figure out.

DIY tennis ball and T-shirt tug
You know that bag of old shirts you're tossing up whether to throw out, donate or use as rags? We've got another option to add to that list.
And if you're particularly handy at braiding or tying knots, this one's for you.
To create this toy for even the most energetic of puppies, simply:
Cut those old shirts into strips
Gather them together, and tie off one end into a big knot
Gather the strips into three groups
Braid the groups together
Cut a hole in either side of a tennis ball, and thread the rope through
Tie off the other end tightly
Do all of that and you should end up with something like this!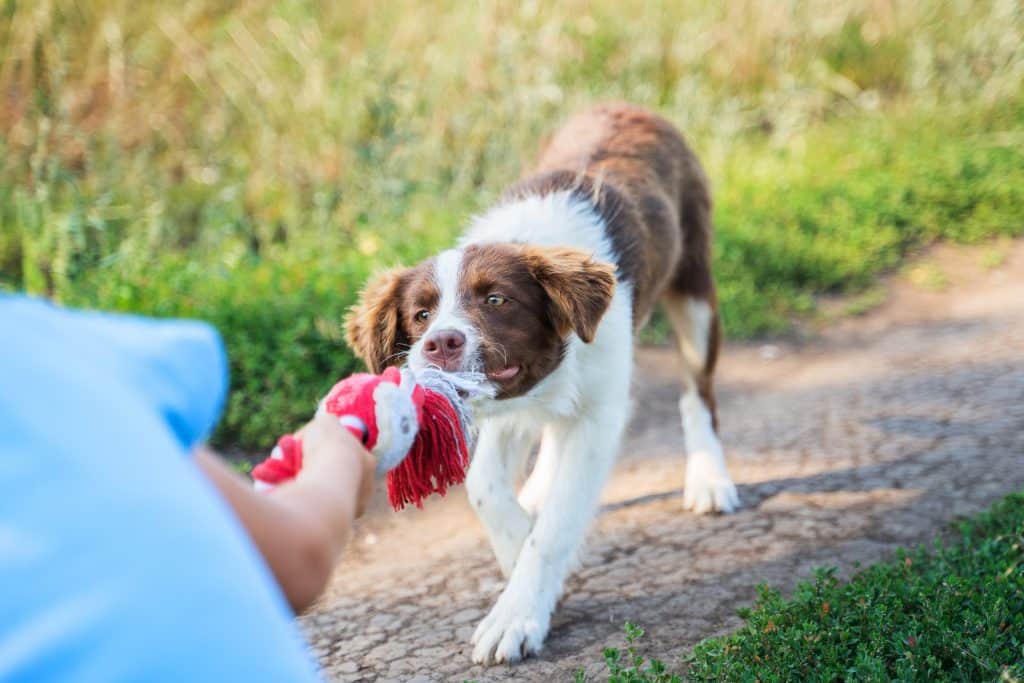 DIY treat puzzle from PVC pipe
Another enrichment puppy toy to add to the list — a treat puzzle!
If you've got some PVC pipe hanging around from the last home renovation, let's put it to good use.
Get a piece of PVC pipe and two cap pieces (the puzzle won't work without it)
Drill holes about 5mm wide all over the pipe (about as wide as your pup's treats or kibble
Pop the treats inside, secure the two caps/end pieces on the pipe
…and you're done! Your puppy will need to use their clever little brain to roll the pipe over until the treats fall out of the holes. See this one and more DIY puzzles in more detail here.

DIY 'spin the bottle' enrichment toy
This game of spin the bottle is a little different to the one you played in high school. In this enrichment game, your pup will use their brain, nose and paws to get delicious snacks out of a bottle.
It'll look something like this: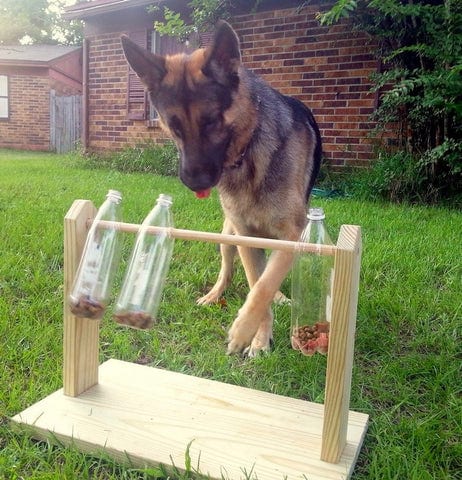 However, if this level of finesse requires more carpentry than you possess, you can also create a super simple version (albeit less durable) by tying some sturdy string or wire between two trees or posts.
As well as the opening of the bottles, you can also cut/drill extra holes to make it a little easier for your puppy.
Ready for a challenge?
If you're looking for something fun to do with your dog at home, why not try out agility? Our Agility Foundation course requires minimal space or equipment and is suitable for all dogs and people – check it out!